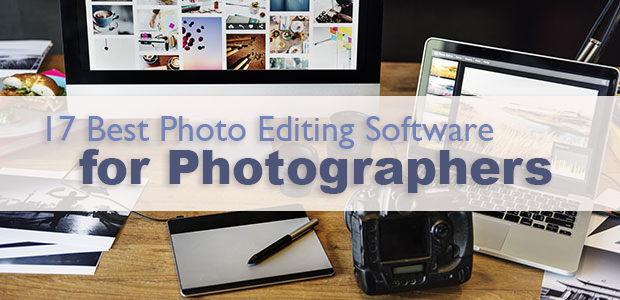 Do you want professional photo editing software on Mac or Windows so that you can perfect your photos? Whether you're a beginner or a pro, editing your photos before uploading them to your photography website is essential. In this guide, we'll share the best photo editing software for photographers.
The best photo editing software can help to bring focus to an image, highlight your key subjects and transform an average picture into something truly incredible.
But the question for most photographers is: how do you choose the right editing software to supplement your skills?
There are countless different photo editing software options, from better-known systems like Adobe's Photoshop and Lightroom to simple but effective choices like Canva. There's even some great free options, too.
So, in today's post we'll find out once and for all, "what is the best photo editing software for photographers?" We'll look at:
Today's free and paid top-rated photo editing software
Features of each photo editing software
How maximize your photo editing software options

Why Should You Edit Your Photos?

Photo editing is part of the job if you're a photographer. Through editing, you can make your already stunning photos even more perfect by adjusting metrics like exposure, white balance and color.

Plus, editing your photos helps to reduce the size of your image files. This is especially important if you plan on posting your images online to your photography website or to a social media account. Smaller images will improve your WordPress sites' loading speed, which will in turn improve your search engine rankings. And, smaller image files post faster and with better quality on your social accounts.

So, photo editing is a win for you all around!

Having an intuitive and easy-to-use photo editing software can help you save time on photo editing while taking your images to the next level.

Let's take a look at some of the best photo editing software available online today. We'll be evaluating these software on three core principles:

Ease of Use
Functionality
Opportunities for Expansion

In other words, how intuitive are these programs to learn? What capabilities do they have — and not have — as photo editors? And finally, do they offer opportunities to expand their functionality through additions like plugins or presets?

Without further ado, let's see what these photo editing software have to offer!

Adobe Lightroom Interface

If Photoshop comes off as too complex and cumbersome, then you're sure to love Lightroom's simple, beginner-friendly interface.

Lightroom's clean and easy workspace allows you to focus on what's important — your image. The left-hand panel gives you quick access to your image library, so you can toggle between photos as you edit. Within the right-hand panel, you'll find drop-down menus for making quick adjustments, adding keywords to your images and more.

In order to really get into your photo editing, you'll need to access Lightroom's horizontal tabs along the top of the workspace. All of your basic and advanced photo editing tools live in the Develop module. From there, you can manipulate your photo with lens correction, split toning, effects and other basic adjustments.

Having a centralized panel for all of your photo editing tools sets Lightroom apart and makes it super intuitive to use!

And, in the Develop module's left-hand panel, Lightroom keeps stock of your photo edits in a drop-down labeled History. That way, you can easily scroll back through your image edits, make changes and review your edits before saving them in a custom preset.

Also, you may notice that Lightroom gives you a guided walkthrough of each module the first time you open the program after downloading the software. Unlike some other in-app tours, Lightroom's tutorial hits all the highlights so you don't miss a thing. With this brief introduction alone, you'll be able to get started on your own edits.

Multi-Use Program

This program is more than just a photo editor. It's a photo organizer, too. Lightroom allows you to easily store and rank your images inside the program, which eliminates the need for an external photo organizing program. Simply assign your photos a star rating based on editing priority — or any other metric for that matter — and get to work!

It's clear that Adobe designed Lightroom to work for photographers at every skill level. So rest assured, Lightroom's navigable interface doesn't mean it isn't powerful. That's what makes Lightroom all the more impressive — it doesn't sacrifice functionality for ease of use!